Spring Programs
Father Son Retreat - Uncommon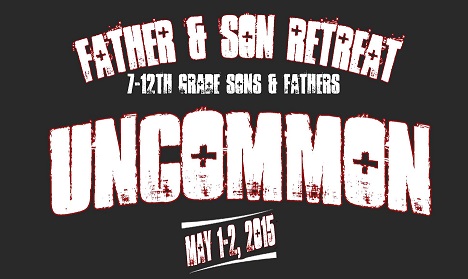 Fathers, we want to invite you to a retreat that is designed for you to lead your sons.  This weekend is open to all fathers and their 7-12th grade sons and would be a perfect opportunity to help you as you lead and inspire your son to become the man God has called him to be. We will plan everything, give you all the resources and opportunities you need/want to communicate with one of the most important people in your life-your son.  Together, you will be challenged and encouraged through the Word as well as just given an opportunity to laugh and play with one another. 
The weekend will include:
Indoor rock wall, Popshot Wars, Fire (controlled of course), Target Shooting, Fishing, Canoeing, Gagaball and much more!
So clear your schedule, shut your phone off, give your wife a kiss and pack up for this UNCOMMON retreat with your son.
Register by March 30th for the early bird rate of $45.00 a person
($55.00 a person after March 30th.  Deadline to register is April 15th.)