2022 Check-In and Check-Out Times
Please check back here often as the exact info and details for check-in and check-out will be updated frequently. 
| Camp Session | Check-In Times | Check-Out Times | |
| --- | --- | --- | --- |
| Most Overnight Sessions | 5PM in the Conference Center. | 4:30PM on the final day in the Conference Center. | |
| Hoofprints Horse Day Camps | 9AM each day. Mondays in the Conference Center. Other days in the West parking lot by the barn. | 5PM each day in the West parking lot by the barn. NOTE: Horse Day Campers will have the option of a staying until 6:30 on Thursday evenings for a campfire/hotdog roast supper.   | |
| Quest Day Camp | 9AM in the Conference Center. | 2PM | |
| Off-Site Wilderness Trips | TBA - Look for an email from your dean. The High School Wilderness Trip will check-In at 3PM on Sunday. | Call the office for updated info. | |
| Hands & Feet and Ziba | 9:00AM in the Conference Center. | 4:30PM in the Conference Center. | |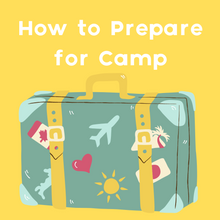 Click above on the "Summer 2022 The Prepared Camper" for a downloadable document that will help get your camper ready for camp. This document contains answers to frequently asked questions, a packing list, and more!
What happens to the $50 non-refundable deposit if my student is unable to attend summer camp?
If the camp session is cancelled due to government restrictions (COVID-19), you will be given the opportunity to move your deposit to another session later in the summer and retain the full $50 or request a partial refund. At this time, we expect a $5 processing fee per student to be charged due to actual charges that THE ARK incurs. Any cancellations made for an active camp session will fall under our current policy with the $50 deposit being non-refundable. We also encourage you to consider donating your unused camper fees to the ministry. If we cancel camps, it is revenue lost that normally allows us to operate during the summer. While there is a reduction in expenses, we still have to pay the electric bill and keep the place running till we are allowed to host groups.