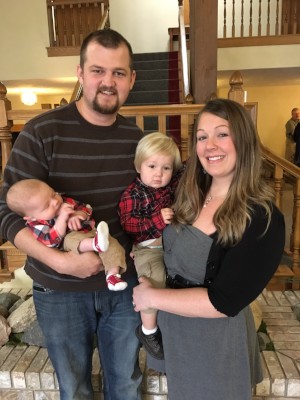 Marcus and Arin Corn served as THE ARK's missionaries for summer 2017.  They shared their story of how God has moved in their lives to put them on the path to full time ministry in Haiti beginning Winter 2018. Each has a long, close history with THE ARK; both of them have served as summer interns for multiple years. Marcus worked as the Maintenance Director from 2007-2011.
"It was very special for us to spend the summer here at a place we love, and be able to share about the role God has us heading in to further His kingdom in Haiti. We will be serving with Haitian Christian Outreach as their Campus Managers.  The compound where we will live includes a school, church, hospital and recreational areas open to the community. In addition to managing the campus, we will be heading up the Community Development area of the ministry.  We will use things like Compressed Earth Block manufacturing and the raising of small animals to create sustainable jobs within the community."
Marcus and Arin have two young boys Maverick & Pierson. As a family, they love camping and going to the zoo. Arin enjoys cooking, gardening, sewing and being a stay at home mom for the boys. Marcus enjoys tinkering in the garage, being outdoors and college basketball.
The money raised this summer will be used to help "Launch" them to Haiti. The cost of moving a family to another country can be very expensive.  The offerings will help them get set up in their new home. Since the Campus is off the grid, one of the main things the money will be used for is a Solar Energy System for their home there.