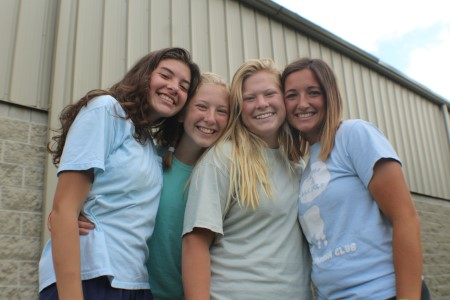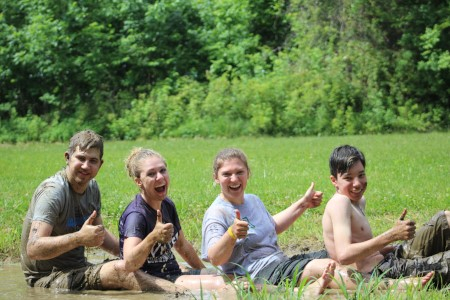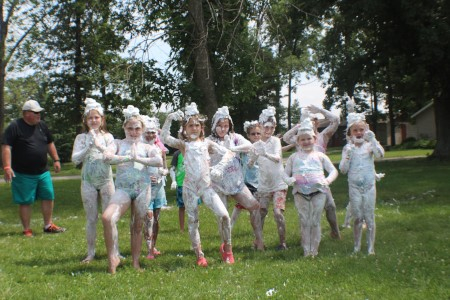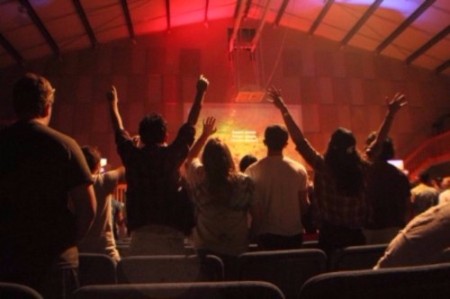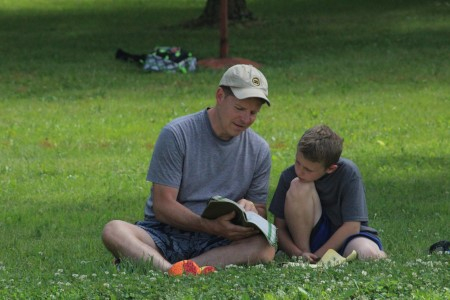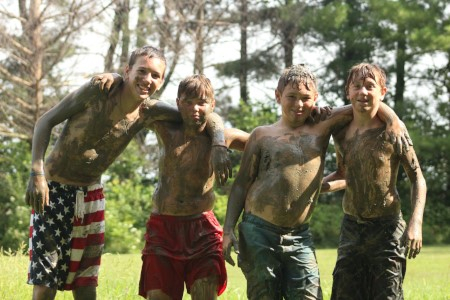 2017 Campers were asked about their favorite parts of camp and what they learned.
Here's a look at some of their responses…          
"Jesus is always with me. He will never let me down."
"I asked Jesus into my life at the first bell while climbing the rock wall."
"HYH (How's your heart?). I learned that God doesn't look at the outside like people do; He looks at the heart."
"EVERYTHING was my favorite!" (So said 4 girls in unison.)
"Learning about God and the mudslide were my two favorite things."
"I loved the conversations and stories in small group."
"I learned to never hide from being a Christian."
"God changes you (during a week of camp) to where you get into a better routine and you're more kind."
"I saw faith like a child lived out and learned about forgiving and forgetting."
 "This is definitely a place where God is."
"Memorizing scripture was THE best.  I learned so many Proverbs."
 "I should go into the world & be Jesus' witness."
"I learned about going into the world and showing people I love Jesus by using my actions. I don't even have to use words."
"Believe in Him (God) even when bad things happen."
 "I knew the kitchen staff worked hard but I never knew before working in there this week how difficult kitchen work can be."
 "My favorite times were the worship ones. Worship is better in a group, especially when dancing."
 "I learned how blessed and thankful I am."
 "I will take home all of the messages from the speakers."
 "This week and place are like a home away from home. There's amazing staff (faculty) who treat you like you're royalty."
"The waterside, mudslide, canoeing at the swamp, and swimming were my favorite."  (So said many campers.)
"Wisdom is doing something kind for others."
 '"The beginning of wisdom is this: Get wisdom. Though it cost all you have, get understanding.'" Proverbs 4:7 (NIV)
"Wisdom = good choices."
'"This is how much God loved the world: He gave his Son, his one and only Son. And this is why: so that no one need be destroyed; by believing in him, anyone can have a whole and lasting life.'" John 3:16 (MSG)
  "Spending time with our counselors and other kids was one of the best parts of camp."
 "Cooking over the fire for two meals and eating one in the conference center was one of my favorite things."
 "God's love & everything He has for us is infinite. I learned that this week." (For real; a middle school boy said that.
 "I liked how each counselor led a different devotion."
"It's always better to follow God's way & not anyone else's way. That's something I learned this week."
 "Each person has a role for God and each person is a piece of God's puzzle."
 "My best part was sitting around the campfire talking about stories about Jesus."
 "No matter what people say I learned I am fearfully and wonderfully made."
"I like the strong relationships between campers and staff and how there are many of the same staff each year...and how I can build on relationships year after year."
 "Worship, the songs, and the band were my favorite."
"From the sermons I learned that God takes our hearts and makes us pure."
 "I need to stay true to the identity that God has given me."
 "Worship was my favorite part.  I felt super close to the Lord during these times."
"Through the missions track I learned that each person's mission for God is unique to them and that God has a plan for my life."
"Everyone's broken in some way & we all need God."
"I took the missions track and loved seeing a variety of organizations up close."
"I learned ways to reach out to people."
"I liked how the missions group got close and we were able to open up to each other."
"From this week I realize the Great Commission really applies to all, including me."
"The music this week wasn't just fast and loud; I listened to the words and they were really impacting."
"God is leading me to do more in my community. I'm not sure what that looks like yet…"