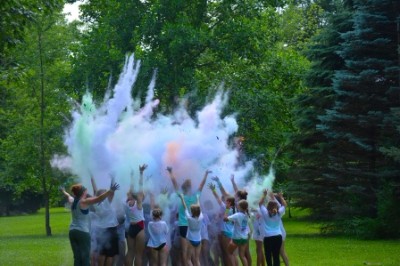 Welcome to THE ARK Christian Ministries
It's official!!!
After 50 years of service with the name "Rainbow Christian Camp", we have officially changed our name to THE ARK Christian Ministries!
So why did we do it?  Because of confusion with two names (Pearson's Mill Christian Assembly dba Rainbow Christian Camp) and because of confusion in our current culture about what the Rainbow stands for and because of confusion that we are much more than a summer camp….. we have made the change.
Please notice that not much else changes here. We are still going to be true to our core values.  Bible Based, Christ Centered, and Mission Minded will still be the principles that guide us each and every day. We will just be known as THE ARK Christian Ministries.
News & Announcements
Where did that one go?

Larry Lipps

Don't look now, but suddenly it is past the middle of July and we here at THE ARK have only a few sessions of camp left. It has been an amazing summer with over 1000 campers and hundreds of faculty spending some time here learning about God and His relentless PURSUIT of them. We have been blessed with favorable weather. An amazing summer intern staff has worked very hard to make sure the facilities were ready, the activities were staffed, and our kitchen team made sure everyone was well fed. Thanks to all who have prayed for THE ARK and all that has taken place so far.

And the numbers keep growing!

Larry Lipps

What an exciting and busy time we find ourselves in here at THE ARK. Some of our summer Interns have arrived and are in training as they learn their roles for the upcoming camp sessions. Speaking of those sessions, over 600 campers are signed up and ready to spend some time on this place learning about the God who is in "PURSUIT" of them. If you haven't registered your camper(s) yet, most sessions still have spaces. Please pray for all the deans, faculty, campers and volunteers that will be spending some time with us.
Upcoming Events
| Sun | Mon | Tue | Wed | Thu | Fri | Sat |
| --- | --- | --- | --- | --- | --- | --- |
| 25 | 26 | 27 | 28 | 29 | 30 | 1 |
| 2 | 3 | 4 | 5 | 6 | 7 | 8 |
| 9 | 10 | 11 | 12 | 13 | 14 | 15 |
| 16 | 17 | 18 | 19 | 20 | 21 | 22 |
| 23 | 24 | 25 | 26 | 27 | 28 | 29 |
| 30 | 31 | 1 | 2 | 3 | 4 | 5 |