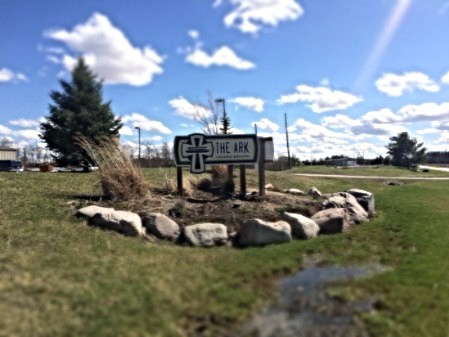 Welcome to THE ARK Christian Ministries
It's official!!!
After 50 years of service with the name "Rainbow Christian Camp", we have officially changed our name to THE ARK Christian Ministries!
So why did we do it?  Because of confusion with two names (Pearson's Mill Christian Assembly dba Rainbow Christian Camp) and because of confusion in our current culture about what the Rainbow stands for and because of confusion that we are much more than a summer camp….. we have made the change.
Please notice that not much else changes here. We are still going to be true to our core values.  Bible Based, Christ Centered, and Mission Minded will still be the principles that guide us each and every day. We will just be known as THE ARK Christian Ministries.
News & Announcements
And the numbers keep growing!

Larry Lipps

What an exciting and busy time we find ourselves in here at THE ARK. Some of our summer Interns have arrived and are in training as they learn their roles for the upcoming camp sessions. Speaking of those sessions, over 600 campers are signed up and ready to spend some time on this place learning about the God who is in "PURSUIT" of them. If you haven't registered your camper(s) yet, most sessions still have spaces. Please pray for all the deans, faculty, campers and volunteers that will be spending some time with us.

Registration is Happening!!

Larry Lipps

To say we as THE ARK staff are excited about the summer of 2016 is an understatement! As we watch the registrations roll in, we are planning and praying and smiling about all the great things we know God has planned for each session. Over 300 campers are signed up and ready to spend some of their summer focusing on God and what He wants them to hear. If you haven't signed up yet, jump to the "Summer Camp 2016 'Pursuit"" page and get registered today!!
Upcoming Events
| Sun | Mon | Tue | Wed | Thu | Fri | Sat |
| --- | --- | --- | --- | --- | --- | --- |
| 29 | 30 | 31 | 1 | 2 | 3 | 4 |
| 5 | 6 | 7 | 8 | 9 | 10 | 11 |
| 12 | 13 | 14 | 15 | 16 | 17 | 18 |
| 19 | 20 | 21 | 22 | 23 | 24 | 25 |
| 26 | 27 | 28 | 29 | 30 | 1 | 2 |