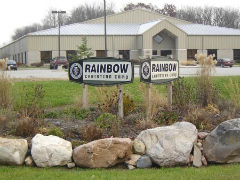 Welcome to THE ARK Christian Ministries
It's official!!!
After 50 years of service with the name "Rainbow Christian Camp", we have officially changed our name to THE ARK Christian Ministries!
So why did we do it?  Because of confusion with two names (Pearson's Mill Christian Assembly dba Rainbow Christian Camp) and because of confusion in our current culture about what the Rainbow stands for and because of confusion that we are much more than a summer camp….. we have made the change.
Please notice that not much else changes here. We are still going to be true to our core values.  Bible Based, Christ Centered, and Mission Minded will still be the principles that guide us each and every day. We will just be known as THE ARK Christian Ministries.
News & Announcements
2016 Registration is open!

Larry Lipps

Although this is being written just hours after the official start of winter, it really is time to begin thinking about the summer 2016 camping season. Actually around THE ARK, we begin thinking about the next summer right after the previous one ends! Please note that there are still a few "odds and ends" that we are trying to finish up, but we wanted you to have the dates as soon as possible so that you could make your plans. Please feel free to contact the office at (765) 395-3638 if you have any questions. (We will be taking a few days off between Christmas and New Years!)

Merry Christmas!!

Larry Lipps

We want to take this opportunity to thank you for your thoughts and prayers and financial support, and wish each of you from each of us a Merry Christmas and a Happy New Year!
Upcoming Events
| Sun | Mon | Tue | Wed | Thu | Fri | Sat |
| --- | --- | --- | --- | --- | --- | --- |
| 31 | 1 | 2 | 3 | 4 | 5 | 6 |
| 7 | 8 | 9 | 10 | 11 | 12 | 13 |
| 14 | 15 | 16 | 17 | 18 | 19 | 20 |
| 21 | 22 | 23 | 24 | 25 | 26 | 27 |
| 28 | 29 | 1 | 2 | 3 | 4 | 5 |